Okay, I don't really care much for viruses of any kind.
Computer viruses
are nasty,
human pathogenic viruses
are no picnic, and there are some
unsavory plant pathogens
as well. Tobacco mosaic virus is one of them. But in the
forests, viruses
are not really known for being pathogens. In the forests, the fungi are pretty much the main players with the trees. But
this video
is the new,
good(?) kind of viral
,
Warning, you may find yourself humming about "just like a mini-mall" when you should be humming Christmas carols!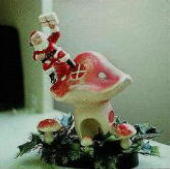 And in honor of the Holiday, here's a lovely image of jolly ol' St. Nick and some mushrooms. Thanks
TV!